Nestled in the mountains guarding the Appalachian Trail, is the wood shop of Harold Weaver. Under the shadow of towering pines, Harold creates only the finest quality jewelry boxes. 
Using only kiln-dried solid cherry, red oak or black walnut, Harold shapes the box, using some tools and jigs he designed and made. A lacquer finish of three sprayed coats and solid brass hardware make each jewelry box a work of art. This is one master cabinetmaker whose bywords are quality and perfection. 
You can see more of Weaver's Woodcrafts at "Tracy's Treasures" in Shippensburg, PA.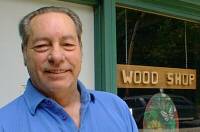 This Four Drawer Jewelry Box is available in cherry, oak or walnut.
Measuring 8x13x13 1/2″ high, this jewelry box has a ring holder, clear plastic dividers in the drawers, and an oval mirror on the open lid.
This Jewelry Chest has seven drawers with a necklace slide on each side of the drawers. Available in oak, cherry or walnut.
Measures 8″ deep x 16″ wide x 21″ high. There are three 2″ drawers with plastic dividers. The first drawer is divided to provide a 3″ x 6″ ring holder and four 1 1/2″ drawers. All drawers are lined.
The lid lifts to display an oval mirror and a 13 3/4″ x 6 1/2″ compartment also lined. Please allow 3-4 weeks when ordering this Jewelry Chest.