Based in an area permeated with Colonial history, Anne Leslie applies her skill of paper cutting to create silhouettes, an 18th Century form of portraiture. A silhouette is a shadow portrait of someone, usually a side view cut with scissors. 
Anne is one of only about 75 silhouette artists in the United States, practicing her craft at shows featuring living history as well as at her studio. Her portraits are renowned for capturing the unique beauty of children. Anne also makes cut paper designs of folk art images such as weather vanes and lighthouses. 
When she is not busy cutting, you may find her playing the Scottish fiddle, as the portraits are done so quickly that there is often time for a tune to entertain the crowd at a show.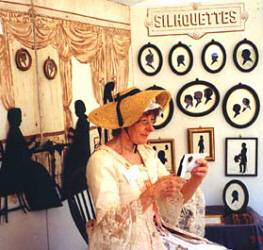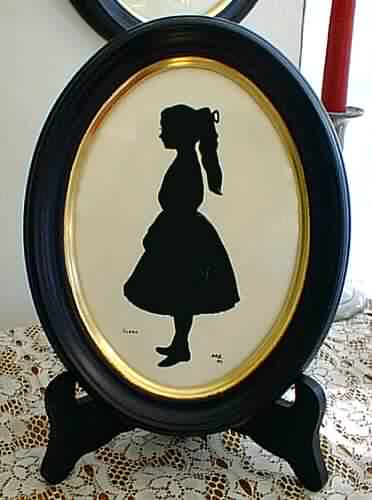 This picture shows two silhouettes in an oval frame. It makes a perfect heirloom to pass down from generation to generation.
The silhouettes , cut as above, are $25 per person, and the large oval frame, outer measurement 10 x 12″ is priced at $50. S&H runs $10. Total price is $110.00 for the double. For three heads in one frame, total price is $165.00 for one framed set, $205.00 for both sets framed. 
This is another example of the weathervanes that Anne cuts, shown framed against a different antique map print. The outside dimensions are 14 x 11″.
This is priced the same as the Alexandria Fire Engine. Anne has a large selection of weathervane silhouettes, and a variety of antique map prints from which to choose, so that you can customize your order. You may send for a catalogue showing the kinds of choices available. 
A full figure silhouette is an example of the finest form of the art, traditional in the eighteenth century by such artists as Edouart in France, England and the US, and the American, William H. Brown.
It is a real heirloom that would fit into anyone's home or heart. The picture shows the silhouette in an oval frame, 7 x 8 1/2″. The silhouette is priced at $38.00 for two copies, $16.00 for each additional copy, and the frame price and S&H are as for the single portrait.