After taking early retirement in 1990, I had a burning desire to fulfill two "hobbies" I had wanted to do for years: watercolors and stained glass. I enrolled in classes for each subject, but much to my dismay I learned I couldn't draw. In the meantime the glass bug had bitten me really hard.

After watching numerous shows on PBS with Vickki Payne, my nephew's wife bought me a tiny kiln for the microwave for Christmas. That's all it took! The arthritis in my hands was prohibiting me from continuing to do stained glass, so kiln-fired glass was right down my alley. In 1994 I bought my first kiln and you might say "the rest is history."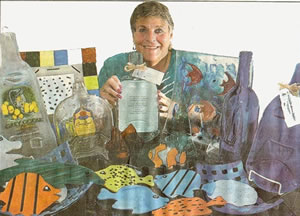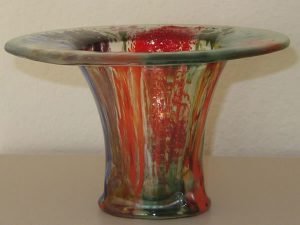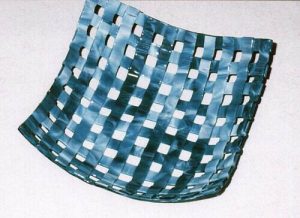 Drop-out Bowl 
The drop-out bowl is ideal for a floating candle, vase, candy dish, or you can just enjoy its beauty. The drop-out bowl measures 9 inches across with a 7 inch opening and stands 3 3/4 inches high. 
As shown: Blue, Green & Yellow stripes fused over clear glass. Can be made in your own custom colors.

Jack Daniels Liquor Platter

This cheese platter is made from the original Jack Daniels liquor bottle. Each platter comes with small knife and bumpons on the back of the platter.

Many liquor bottles available.
Lattice Bowl 
Twenty strips of glass are fused to hold the strips in place. This piece is then slumped into a mold to form an 11 3/4 x 11 3/4″ bowl.
Display fruit, shells, etc. in this bowl or just enjoy it's beauty. Available in dark wine, pink, champagne, black, clear, dark blue, turquoise and seafoam. Shown in turquoise.